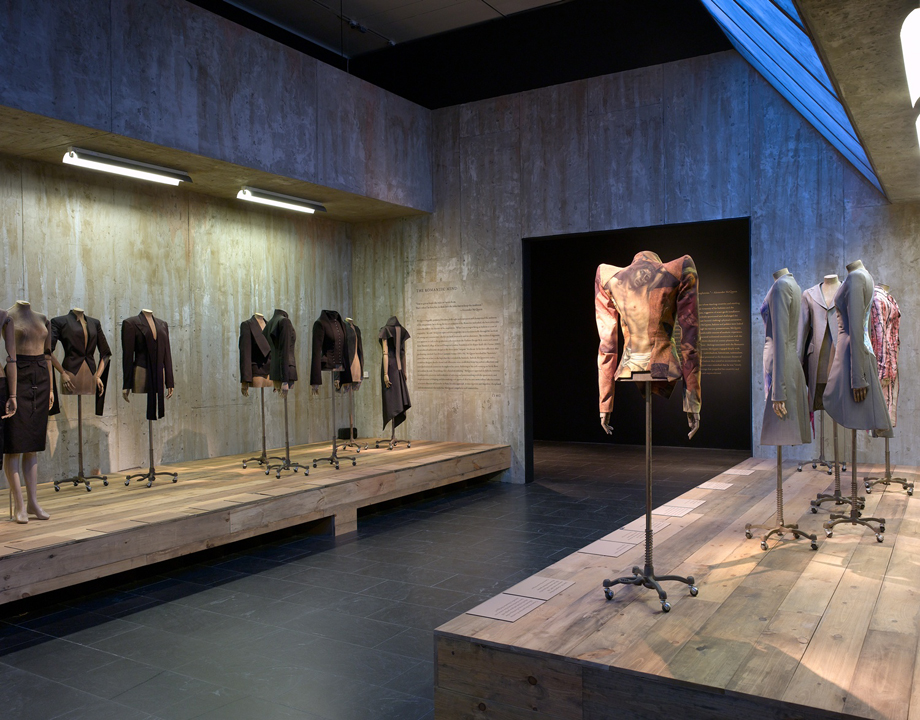 The Metropolitan Museum of Art is unparalleled for its curatorship of costume and fashion design.  The spectacular success of the current exhibition Alexander McQueen: Savage Beauty reminds us that this is THE Haute Museum.  Andrew Bolton, curator of "Savage Beauty" says the title very much epitomizes the contrasting opposites in McQueen's work. "As you enter the exhibition, you're faced with two mannequins—the two mannequins that I think represent many of the themes and ideas that McQueen revisited throughout his career: polarized opposites, whether it's to do with life or death, lightness or darkness, predator/prey, man/machine. "
If you cannot make the pilgrimage, don't fret.  The coffee table publication of Savage Beauty draws utterances such as Breathtaking, Genius, and OMG in awed tones….Themes such as "The Romantic Mind," "Romantic Gothic" Cabinet of Curiosities, reflects McQueen's  ability to channel the skills of his craft and to use fashion as a vehicle to express very complex ideas and concepts. In this superbly beautiful exhibition you see how McQueen mastered the crafts of his trade and subverted them.
The exhibition, organized by The Costume Institute, celebrates the late Alexander McQueen's extraordinary contributions to fashion. From his Central Saint Martins postgraduate collection of 1992 to his final runway presentation, which took place after his death in February 2010, Mr. McQueen challenged and expanded the understanding of fashion beyond utility to a conceptual expression of culture, politics, and identity. His iconic designs constitute the work of an artist whose medium of expression was fashion. The exhibition features approximately one hundred ensembles and seventy accessories from Mr. McQueen's prolific nineteen-year career. Drawn primarily from the Alexander McQueen Archive in London, with some pieces from the Givenchy Archive in Paris as well as private collections, signature designs including the "bumster" trouser, the kimono jacket, and the three-point "origami" frock coat are on view. McQueen's fashions often referenced the exaggerated silhouettes of the 1860s, 1880s, 1890s, and 1950s, but his technical ingenuity always imbued his designs with an innovative sensibility that kept him at the vanguard.
McQueen often called himself the "Edgar Allen Poe of fashion." One of the most prevalent and ongoing themes in McQueen's work was the Gothic, particularly the darker side of the nineteenth century, of Victorianism. Many of the pieces are inspired by the cult of death, and it's also peopled with characters associated with the literary concept of the Gothic, like vampires, highwaymen, antiheroes, or Byronic heroes. McQueen loved to provoke and loved to provoke you emotionally. He did this by tapping into one's cultural anxieties, or one's uncertainties, or one's hopes, or one's desires.
Located in the Iris and B. Gerald Cantor Exhibition Hall, second floor, the exhibition is free with Museum admission. See Plan Your Visit for Museum hours, directions, and admission information. If you cannot get there – order the book on line – TDF!
"You've got to know the rules to break them. That's what I'm here for, to demolish the rules but to keep the tradition."
—Alexander McQueen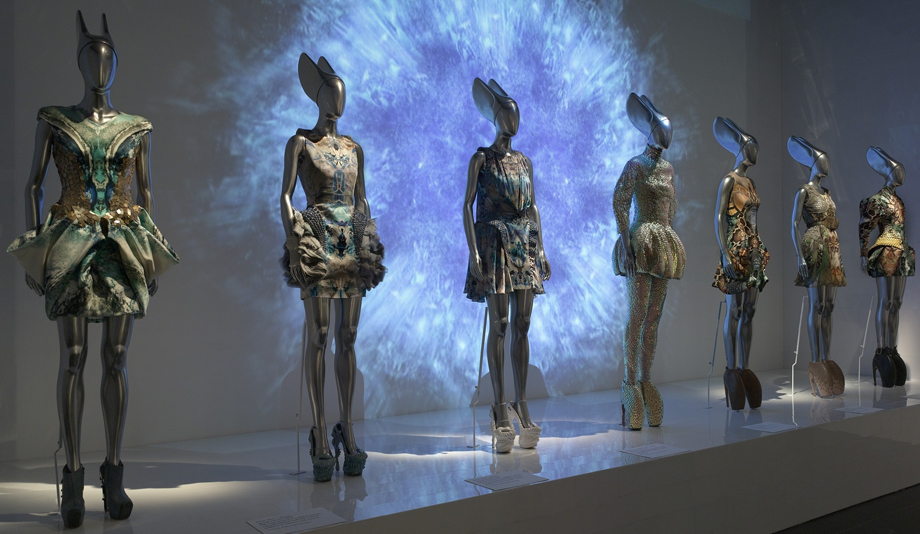 Gallery photography by The Photograph Studio, The Metropolitan Museum of Art